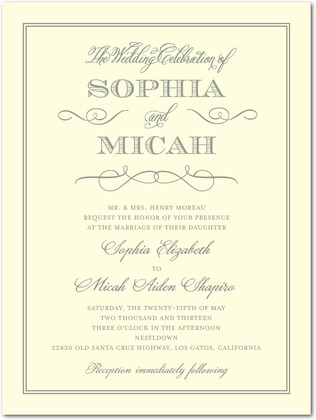 Because the push to be unique is increasing important to our brides, here are some of the more creative ideas we have seen.
If yours is a smaller wedding, consider including a personal not with the invitation.
With the help from the US Postal Service you can create your own stamp.
Stats have shown that social invitations are opened more frequently on Saturdays.  Time your invitation mailings to arrive on Saturday if possible.  You'll receive more RSVP responses.
Pick a monogram and use it throughout the planning process.
Choose a unique start time for the ceremony.  For example use the date you met (5:23) or the date you got engaged (7:04) or other key dates in your lives.
Take lots of photos during your engagement and pre-wedding planning period and use them as table decorations at the reception.
Create an entrance at the wedding ~ something that says WOW and let's your guests know they have arrived.
Include your parents by having their wedding photos on display at the reception.  Include grandparents photos too if they are available.
To keep everything moving, plan a "surprise" for guests at the reception every 30 minutes.
~ Best,
Laura